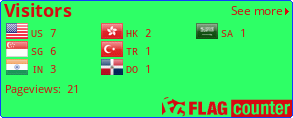 This counter is only for statistical
purposes. This counter does not
collect or store any personal
identification data.
Counter initialised on 2018-09-11.
Administrivia
Page last modified on: 2018-09-11
URL : http://drpartha.org.in/profpartha/raymond.htm
Send your comments and suggestions, to: drpartha@gmail.com
Page developed by: Algologic Research & Solutions
Do not miss : Our Warning and Disclaimer page.